Mason Creek Utility District has contracted Best Trash LLC for the waste collection services of our district. This service is provided under a long term agreement and includes the collection of all household garbage including large debris and a comprehensive recycling program. Our community is very fortunate to still enjoy backdoor pickup services, even for grass clippings, which has become a rarity in the Houston area, details about this are provided below. Twice each year a heavy/large trash collection day is held where any current resident in the community can bring large or oversized items to a central location for disposal. These collection days are quite popular and allow residents the opportunity to dispose of fencing material, tree trimmings or similar items that are difficult to dispose of. What your newsletter for dates and locations or call the district office to inquire.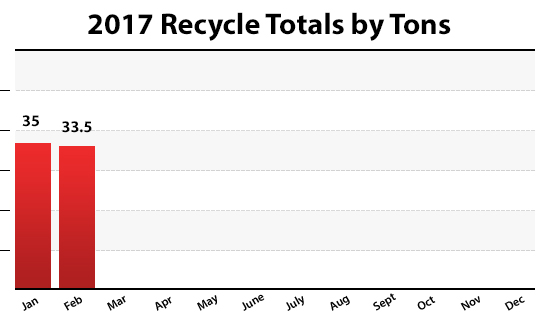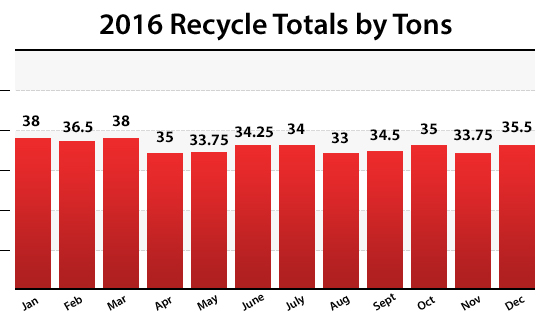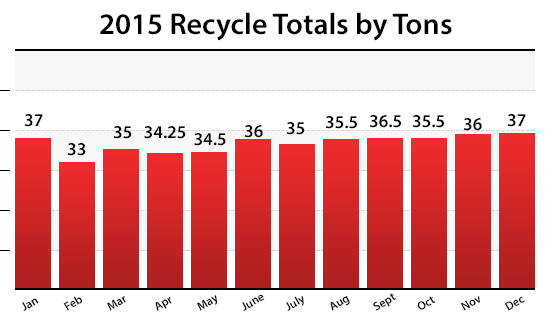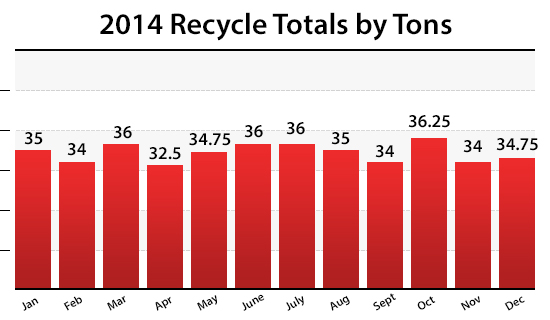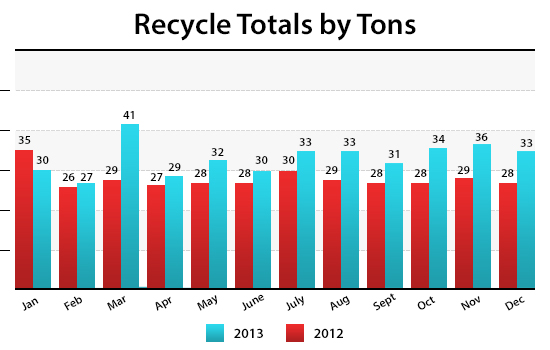 Recycling Containers
Each resident is provided with a red recycling container for the collection of their recycle material. There are still a large number of residents that continue to use the blue container that has the NCCIA logo on it, this is your container and you are welcome to continue using it. If your red recycle container becomes damaged or you require a second container for the purpose of recycling please call the district office and request one.

Recycling is something that everyone can take part in to immediately make a difference for the environment. Mason Creek U.D. and Best Trash LLC have worked together to offer a very comprehensive recycling program that accepts the most common recyclable materials found in every household. A complete list of those items is provided on this page. The newest addition to the list of acceptable materials is glass bottles.

In an effort to demonstrate how we are doing collectively as a community each month, we are posting the total tonnage of recycle material collected monthly to this web page. The purpose of posting these monthly collection numbers is to raise awareness for our recycling efforts and work as a community to see the tonnage increase month over month. If you haven't already adopted a recycling effort in your household please consider doing this and also encourage your neighbors to do the same. The more we recycle the less is sent to a landfill!
Important Waste Collection Information:
Please have trash out or accessible by 8:00 A.M.
Garage/back door pick-up is limited to household garbage and up to 5 bags of grass each weighing less than 40 pounds. Household garbage is defined as waste generated inside the house, exclusive of any construction or remodeling debris. Garbage containers must be accessible and visible or located in a gated enclosure adjacent to the garage area and as close as practical to the entrance to the enclosure and in plain sight. The maximum size container is 40 gallons.
Tree trimmings and any grass clippings exceeding 5 bags must be placed at the curb area of each residence. Trees, shrubs, brush trimmings and fencing must be bundled in lengths no greater than 4 feet with no branch diameter exceeding 3 inches. The bundling is required to allow quick pickup, and size limitations are required to avoid damaging the equipment in the crushing process. All residential waste materials must be either in containers not exceeding 40 gallons, bags or bundles not exceeding 40 pounds. All permanent trash containers, after being emptied by Best Trash, will be returned to their point of origin in the same condition in which they were taken, normal wear and tear excepted.
All bulky items must be located at the curb area of each residence. Items such as appliances, furniture, carpet (up to 1 room, rolled up four feet wide and less than fifty pounds), cardboard boxes (flattened), will be picked up either day. By Federal Law, refrigerators and freezers or any other items containing Freon must be drained of Freon and have an accompanying bill to validate such service was performed.
Items excluded from normal collection are dirt, rocks, bricks, concrete, tires, batteries, motor oil, cooking oil, waste generated by a private contractor or any materials or items deemed hazardous materials. Best Trash will leave a tag explaining the reason for non-collected item(s).
Best Trash will clean up any spillage that occurs during the collection or recycling process, provided, however, that if gasoline, motor oil, paints, cooking oil, or any other liquid items in a container that is not visible to Best Trash personnel results in spillage that causes a stain, Best Trash cannot be held responsible.
Best Trash takes great pride in providing a superior recycling program. Ensuring the best recycle program for our residents takes time and effort on both sides. Please remove caps, liquids and food products from inside the containers. Please only use the recycle bins for recyclable materials, not as an extra trash container.
Best Trash will collect newspapers, plastics 1 and 2 (look for classification stamp on items), aluminum and tin cans that are placed within the provided recycling bin. If items exceed container capacity, please place them adjacent to bin. If you need an extra recycling bin please call the Best Trash office.
Here is a helpful list of what will be accepted as recyclable versus what will not:
PAPER:

DRY & CLEAN, LOOSE

CONTAINERS:

EMPTY, CLEAN & LOOSE

Newspaper & Inserts
Magazines & Catalogs
Junk Mail, Envelopes, File Folders
Office White, Colored & Computer Paper
Corrugated Cardboard Boxes
Cereal & Gift Boxes, etc.
Wrapping Paper
Milk Cartons
Juice Cartons
Wax Coated Boxes

Glass - Clear & Colored
Aluminum Cans
Aluminum Foil
Aluminum Foil Plates / Serving Containers
Plastic Bottles, Jars, Tubs & Buckets
(such as soda, water, milk, juice, liquor, shampoo, detergent, condiments, salad dressing, yogurt, margarine, pet food, etc.)
Plastic Grocery Bags
Styrofoam (containers & packaging)
Metal Food cans (tin & steel)
Metal food can lids
Metal pots & pans

If you have more recyclable material than what fits in the provided

Red

bin, you are welcome to use a container of your choice (i.e. Rubbermaid tote, trash can with lid and wheels) as long as the container is clearly labeled "

RECYCLE

".
281-313-2378
www.best-trash.com
Best Trash will provide each current residence with one recycling bin. Best Trash will replace any bins that are defective or otherwise become unusable due to normal wear and tear. Theft, lost or additional bins can be replaced at $7.00 each.
If you find items left in your bin that are not recyclable Best Trash will leave a tag indicating current recyclable items. Please dispose of these items in your trash container for the next scheduled pick up.
Should your residence miss a pickup or you have the need to contact Best Trash for additional support please contact them directly with the below information.
Contact Information:
Best Trash
17820 Madden Rd.
Richmond, TX 77407

Phone: (281) 313-2378
Fax: (281) 313-2379
Send Best Trash an E-mail

Web Site: Best-Trash.com
Holidays
When regular pickup falls on a holiday, (New Year's Day, Memorial Day, July 4th – Independence Day, Labor Day, Thanksgiving Day, and Christmas Day), the pickup will be made on the next regular scheduled pickup day. If your recycling day falls on a holiday it will be picked up the next week on your normal scheduled recycle day.